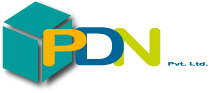 Technology - Simplified!

PDN (Product Distribution Network) is a Private Limited Company based in Karachi Pakistan. We are an organization dealing in different IT hardware brands, providing quality services to our client, trouble shooting and maintaining their infrastructure and other IT related hardware.
PDN emerges in market with a mission of continually improving the productivity of its customers by integrating existing systems with emerging software/hardware products, high quality services and ongoing support. We provide exceptional value for customers by delivering exceptional IT solutions with professional integrity, we develop successful business relations through mutual trust and respect by delivering high-quality technology solutions that enable organizations to meet their business goals more efficiently.
PDN mission is to become a leading process driven technology, services delivery and solutions company with best value for customers.


Copyright 2011-2012
PDN Pvt. Ltd. (Product Distribution Network)
All Rights are Reserved.



13/OCT/2011
PDN Pvt. Ltd is now an authorized reseller for the entire range of Motorola Enterprise Mobility products in Pakistan.
Read More....
05/JUL/2011
Ubiquiti Networks has joined hands with PDN to distribute its wireless netwrok products.
Read More....